Another popular television series by Shonda Rhimes that revolves around the journey of surgical interns that gradually transform into trained surgeons. The lives of these interns and residents unfold within the walls of the Grey Sloan Memorial Hospital. The happy, the sad, the romance and the heart breaks of their lives take its course with its ups and downs as they go about saving the lives of others. One could say that sometimes they save lives when their own lives are sinking. The story gives an up close and personal look into the lives of surgeons while giving the viewers a front seat pass to an O.R.
But is the show really about handsome male and stunning female surgeons? Well that's definitely a treat to the eyes but look closer, at the HR of Greys Anatomy.
Dr. Miranda Bailey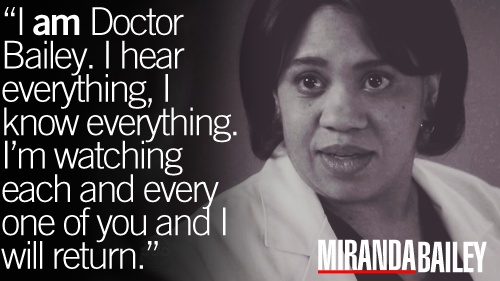 A dedicated surgeon with absolutely great bedside manner but when it comes to her role as a leader, she takes a much different approach as she is often known for her tough personality and blunt attitude. And that why many referred to her as "The Nazi". She isn't a mean personality but her attitude towards the job is so strong that she expect everyone to be of the same. A supportive and loving personality on the inside but puts up a tough exterior to maintain the she deserves from respect from her subordinates and colleagues. We all have manager that are a bit tough on the outside but are lovely personalities once you really get to know him/her. It is their love and dedication to the job and the amount of discipline that they experienced, that has made them practice tough love towards others. So if there is someone who make you think of bailey, don't take it personally, cos there's a lot to learn from people who has that much dedication and love towards their job.
Dr. Richard Webber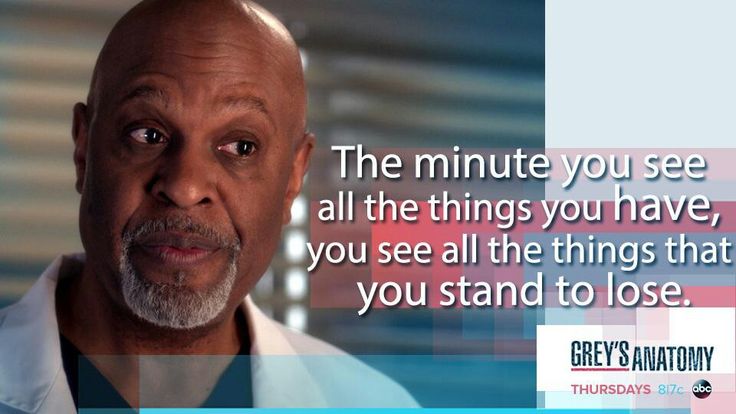 A delightful father like figure that has more experience than anyone in the hospital. He enjoys teaching and loves taking trips down memory lane with all the insightful stories that make excellent teaching moments. He is strong leadership figure that is just the right mixture of mature and fun and is the most approachable one among all. A soft spoken personality who has a pleasant relationship with everyone around. Someone who treats people kindly and fair and always stands up for those who are mistreated. His passion and love for the subject is portrayed with every word spoken. This is a management personality that we all have had the opportunity to meet at least once in our lifetime. A strong fatherly personality who always knows what to do. A well experiences manager who enjoys passing down the torch to the new generation.
Dr. Meredith Grey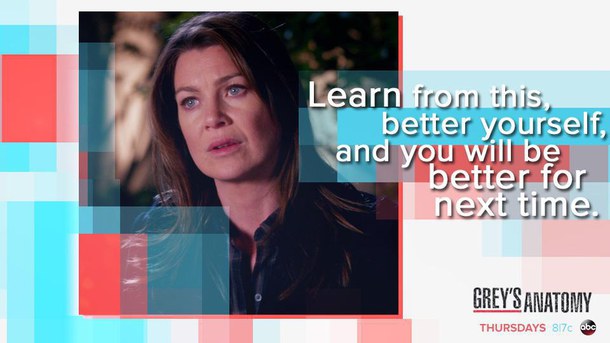 The most complicated and distant personality in the show, her long history with the hospital and her childhood has made her become very distant from the world. She is not your typical touchy feely friend. She is approachable but isn't the most emotionally connected person out of all the characters. Her leadership methods are more neutral, she is a confident leader who always stands up for herself. A straight forwards personality that isn't afraid to voice her opinion. Someone who understands people and knows the value of keeping a secret. Although these leaders are not those that will give you a hug when you're having a bad day but someone that might give you the right amount of space that you might need. Distant yet focused. Often misunderstood as rude and uncaring when in reality they are the ones that are genuinely caring enough to understand the situation.
Owen Hunt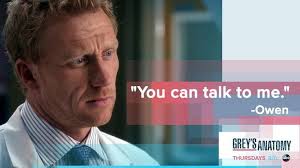 This character enters later during the show and grabs the attention of the viewers instantly. At first the he does seems a little on the bossy side but as the show goes on we see a whole new personality emerge. Looking from a distant perspective the character appears very tough, someone that does not flinch at anything. And he is that, but to sum up his personality would be that he is someone who has a good grip in life. A survivor who has been through the worst of the worst. Someone who can make a decision within a split second, willing to take a challenge and grab charge of the situation no matter how bad it might be. A responsible person who doesn't back down at any cost. This is definitely a rare leadership character that only a few may have the opportunity to meet once in a life time. Someone who is willing to listen and care yet has a strong mind that can keep everyone around him grounded.
Christina Yang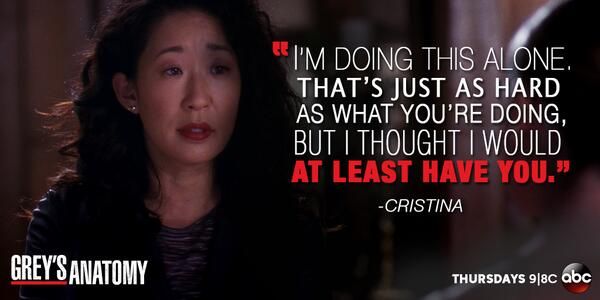 A strong character that grabs your attention with her unique personality. Her hard and straightforward personality is what makes her one of the toughest out of the team. The strong love and passion she has towards cardiology, becomes her drive that makes her the crème de la crème of all cardiologists. She is definitely not the most loving and caring leadership role that you will meet but she is someone who will be straightforward enough to tell you the truth about the situation. Her policy of life is very different to the rest of us as she stands on her own and what people might think or feel about her doesn't concern her. A very strong minded personality, with a heart that can withstand the worst of situations. A coat of sugar can cover up a lot of things and we sometimes need a dose of bitter to cut through the sweet and Christina is just that. As a leadership personality this is one in a million. Although a little difficult to handle, definitely a great source of knowledge, discipline with a touch of reality.
So on a typical day at work, stop and look at all the different leadership roles that you might find. Some that you interact with on a daily basis and some that you have had a love hate relationship for very a long time. These are character might come into your mind while you go about your day.